Save up to $25,000! Limited Time Only. Click for details.
How to Build a Custom Home
Building a custom home can be an exhilarating or exhausting experience, depending on which route you take. Contrary to what some people believe, building a custom home doesn't have to be one big do-it-yourself project where you have to vet and hire an architect, contractor, plumber, or electrician, and deal with building codes. Working with an established custom home builder gives you the best of both worlds. They take care of all the technical details like site planning, permits and labor, so you can focus on the fun part—designing your dream home.
Contact Me
Steps for Building a Custom Home
Getting started building a custom home is easy, especially once you find the right builder.
---
First, you'll want to look for builders close to you or where you want to build. While there are custom home builders all across the country, most of them are limited in the areas they serve. A simple Google search for "customer home builders near me" should help you narrow down the pool. From there, you'll want to reach out either online or by phone to find out the exact areas where each company builds. Once you've identified your options, the next step is to do your research. You'll want to make sure the company you hire has several years of experience and positive customer reviews. You should also browse their website and visit their design center or office to inspect the quality and variety of their products and services up close. Most custom home builders with have model homes on site that you can tour.
---
2.
Make an Appointment with a Custom Home Consultant
Even if you haven't purchased any land or secured a home loan yet, the best next move is to meet with a custom home consultant. Regardless of where you are in the buying process, they can answer all of your questions, including pricing and timelines, and guide you in the right direction. One of the biggest advantages to working with an experienced home builder is that they already have established relationships with a variety of knowledgeable and dependable real estate agents, mortgage lenders, and contractors who are very familiar with the custom home building process. If you don't have a plot of land or funding yet, custom home consultants can put you in touch with providers who can help get you ready for the next step.
---
3.
Design Your Custom Home
Now that you've chosen a lot to build on and have the necessary loan to fund your project, you're ready for the most exciting step — designing your dream home! Through a series of meetings, you and your new home consultant will work together to select a home plan that's right for you, based on desired number of square feet, number of bedrooms and bathrooms, kitchen size, and more. After selecting a home plan, you'll get to choose all of the extras and design elements that will truly make your new home a one-of-a-kind. Do you want a fireplace to cozy up to or a deck where you can enjoy mother nature? Do you need a home office or a three-car garage to store your prized possessions? These are just some of the choices available to custom home buyers. You'll also get to choose the exact materials used to design the interior and exterior of your home, including kitchen countertops and cabinets, flooring types and colors, window and shutter styles, and much more. Most builders have facilities where you can go to see and handle the different materials to help you decide.
---
4.
Sit Back and Relax While Your Home is Built
Once you've chosen all of your home features, materials, colors, and styles, it's time for construction to begin while you relax and prepare for your upcoming move. While professional custom home building companies handle most of the technical details and heavy lifting, they do like to keep buyers involved each step of the way to ensure that they're happy with the work that's being done. So anytime you have questions, your designated new home consultant is there to help.
Are you ready to find a custom home builder? We can help!
---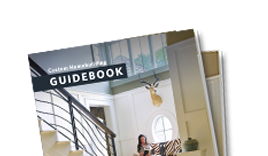 FREE CUSTOM HOMEBUILDING GUIDEBOOK
If you're ready to start your journey with Schumacher, we have everything you need to know all in one place.